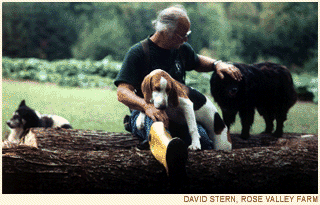 The goal has been to find the balance between the farm and all it demands to earn a living, and all those other important works that are done in this and extended communities that give life it's value and meaning. - David Stern
David Stern is the Director, contributing writer, lecturer, and co-founder (1985) of the Garlic Seed Foundation. He came to live in Rose, NY in 1973 and started conventional farming of grains and beans. Organic transition was begun in 1979 and completed by 1984, when Rose Valley was one of the first farms to be certified "organic" in New York State.
David works as a farmer from April-November. During the winter months he skis and works as a mediator in the Seventh Judicial District of New York and for the US postal Service. He has trained student peer mediators and worked in many schools on issues involving the peaceful resolution of conflict. For many years he has worked as a counselor with incarcerated men in the Alternatives (to Violence) Program.
Throughout the year he is an active advanced medic and firefighter in the Rose Fire Company, a farmedic instructor, and he works proactively on rural housing issues and other civic activities.
David Stern, Director | Bob Dunkel, Press Editor